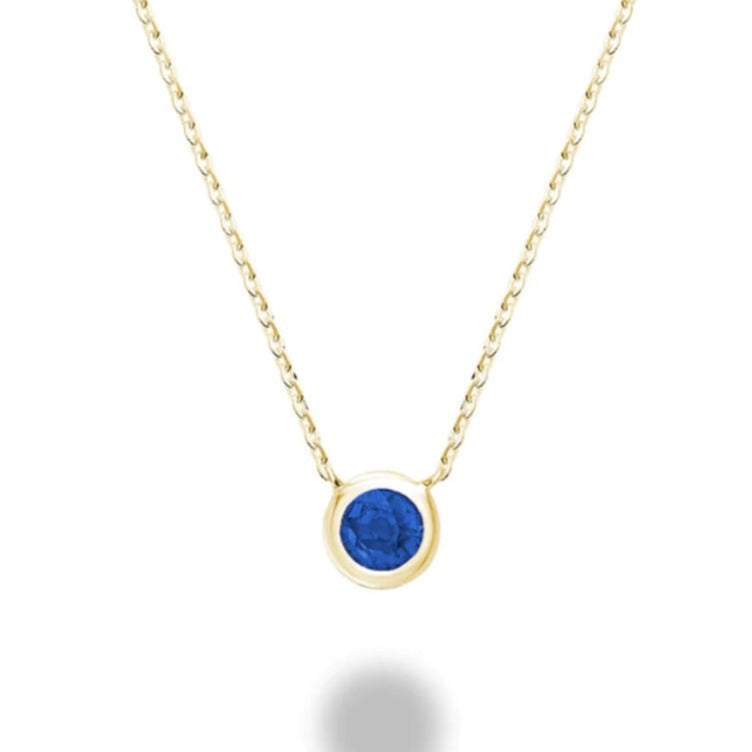 Blue Sapphire Necklace - Bezel Set
This beautiful Blue Sapphire Necklace - Bezel Set is a jewelry piece unlike any other. Crafted from 10kt yellow or white gold, this piece has been expertly designed to add a touch of luxury to any wardrobe. Perfect for any event, this necklace features a stunning bezel set blue sapphire – the birthstone of September. Those lucky enough to be born in September have the luxury of being able to showcase their birth gemstone, or give a meaningful gift to a loved one.

Beyond its exquisite beauty, the sapphire is an ancient symbol of peace, meditation and wisdom, making it a beautiful choice for spiritual and metaphysical enthusiasts. Believed to bring balance, strength, and joy, this alluring gemstone helps the wearer to remain in control of their life journey with focus and clarity.

For the gift buyer, the Sapphire Necklace – Bezel Set is a perfect choice for almost any occasion, including birthdays, anniversaries, or simply to express your heartfelt gratitude. An affordable and elegant gift both male and female recipients, this necklace radiates nothing but style and sophistication.

Express your inner spirit and add a touch of elegance to your style with the Blue Sapphire Necklace – Bezel Set. Available in 10kt yellow or white gold, make this your own and let the sapphire bring balance, joy, and spiritual enlightenment wherever you go!