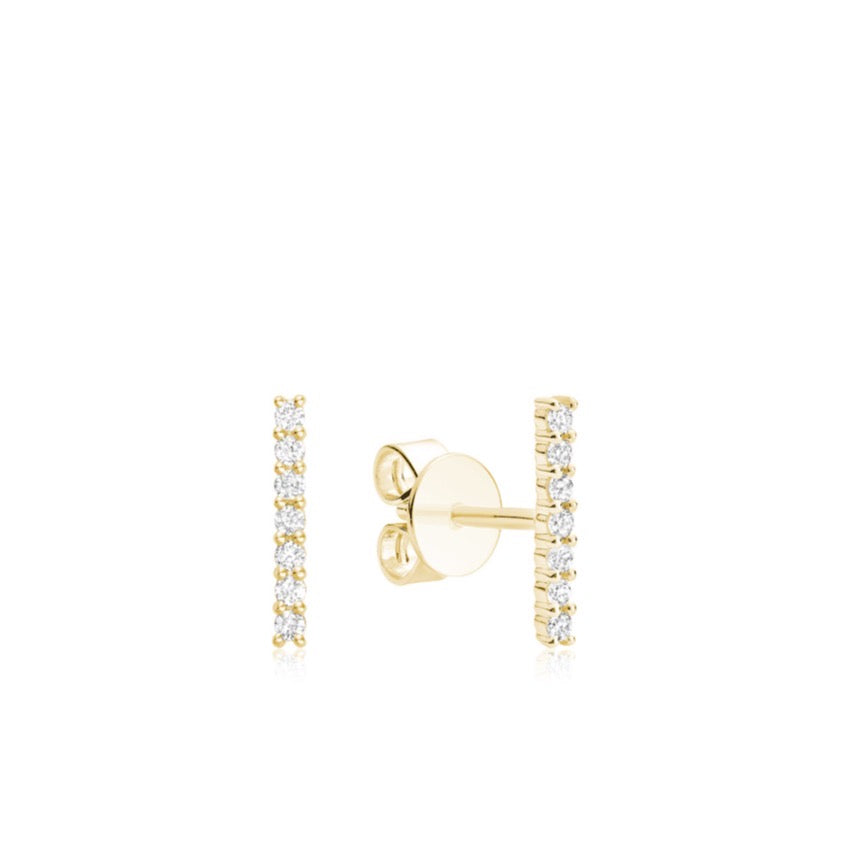 Diamond Bar Stud Earrings
Elevate your style with our Diamond Bar Stud Earrings, meticulously crafted from 14kt gold and adorned with stunning 0.11CT diamonds. These elegant earrings are a must-have accessory for those seeking a classic yet contemporary look.

Stylish and Timeless Design

Our Diamond Bar Stud Earrings feature a sleek and modern design that effortlessly complements any outfit. The straight bar shape adds a touch of sophistication and uniqueness to these timeless studs, making them a versatile choice for both casual and formal occasions.
Exquisite Craftsmanship in 14kt Gold
Each pair of earrings is expertly crafted in 14kt gold, ensuring long-lasting beauty and durability. The high-quality gold setting provides a luxurious backdrop for the sparkling diamonds, adding an element of luxury to these stunning earrings.

Dazzling Diamonds for Elegant Sparkle

The centerpiece of these earrings is the dazzling 0.11CT diamond on each stud. These diamonds are carefully selected for their brilliance, fire, and clarity, creating a captivating sparkle that catches the light from every angle. Experience the timeless beauty and radiance of genuine diamonds.
Versatile Options in Classic Gold Colors
Choose from three classic gold colors to match your personal style and preference: white, yellow, and rose gold. Each color option adds a unique touch to the earrings, allowing you to express your individuality. Whether you prefer the cool elegance of white gold, the warm glow of yellow gold, or the romantic hue of rose gold, there's a perfect pair for you.
Perfect for Any Occasion
These Diamond Bar Stud Earrings are versatile accessories that effortlessly transition from day to night. Wear them to complement your everyday look, add a touch of elegance to a business attire, or dazzle at a special event. Their understated yet sophisticated design makes them a go-to choice for any occasion.