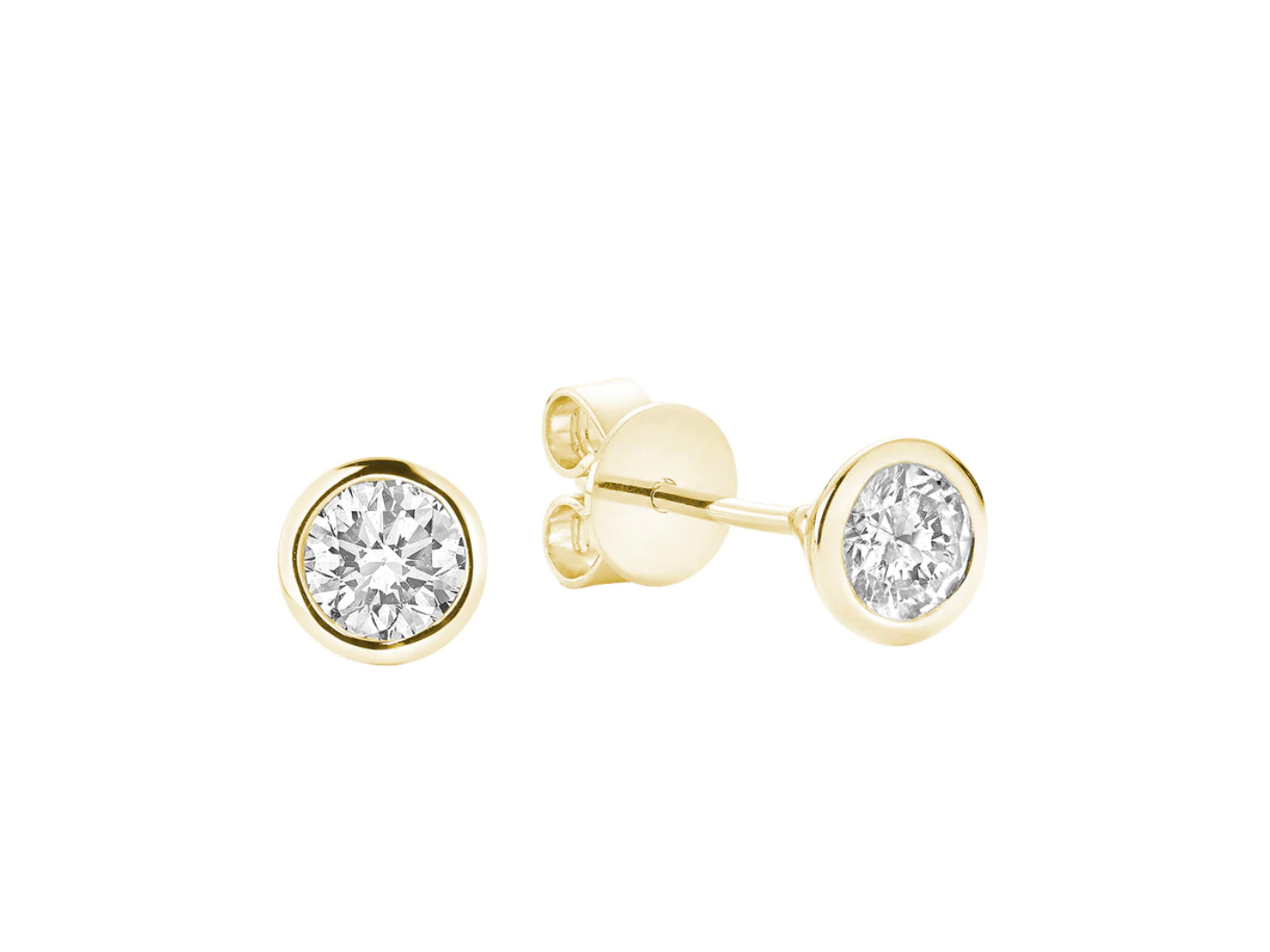 Discover the perfect blend of sophistication and timeless elegance with our 14kt Diamond Bezel Earrings. These exquisite earrings feature dazzling 0.10ct diamonds, each delicately set in a secure bezel setting. Crafted with care and precision, these earrings are available in both white and yellow gold, allowing you to choose the perfect match for your style. Elevate your look and embrace the brilliance of these stunning diamond earrings.

Stunning 0.10ct Diamonds
Each earring in this set showcases a sparkling 0.10ct diamond, radiating a captivating brilliance. These high-quality diamonds are carefully selected for their exceptional clarity and fiery brilliance, creating a mesmerizing display of light. The 0.10ct size strikes the perfect balance between elegance and versatility, making these earrings ideal for both everyday wear and special occasions.

Secure Bezel Setting
The diamonds in these earrings are securely held in place by a classic bezel setting. This setting provides maximum protection to the diamonds while highlighting their natural beauty. The bezel setting ensures that the diamonds remain securely in place, allowing you to wear these earrings with confidence and peace of mind.

Exquisite 14kt Gold
Crafted with utmost precision, these earrings are made from 14kt gold, adding a touch of luxury to your jewelry collection. The choice of 14kt gold enhances the durability and longevity of the earrings, ensuring that they will be cherished for years to come. Available in both white and yellow gold, you can select the gold tone that complements your personal style and preference.

Versatile and Timeless Design

The elegant design of these bezel earrings offers a timeless appeal that effortlessly complements any outfit. Whether you're dressing up for a formal event or adding a touch of sophistication to your everyday attire, these earrings are the perfect choice. Their understated yet refined style makes them versatile enough to be worn with any ensemble, from casual to formal, allowing you to effortlessly elevate your look.

Enhance Your Style with 14kt Diamond Bezel Earrings

Embrace the allure of exquisite diamonds with our 14kt Diamond Bezel Earrings. With their stunning 0.10ct diamonds, secure bezel setting, and choice of white or yellow gold, these earrings are the epitome of elegance and sophistication. Elevate your style and make a statement with these timeless and versatile earrings. Choose these bezel earrings to add a touch of luxury and brilliance to any occasion.