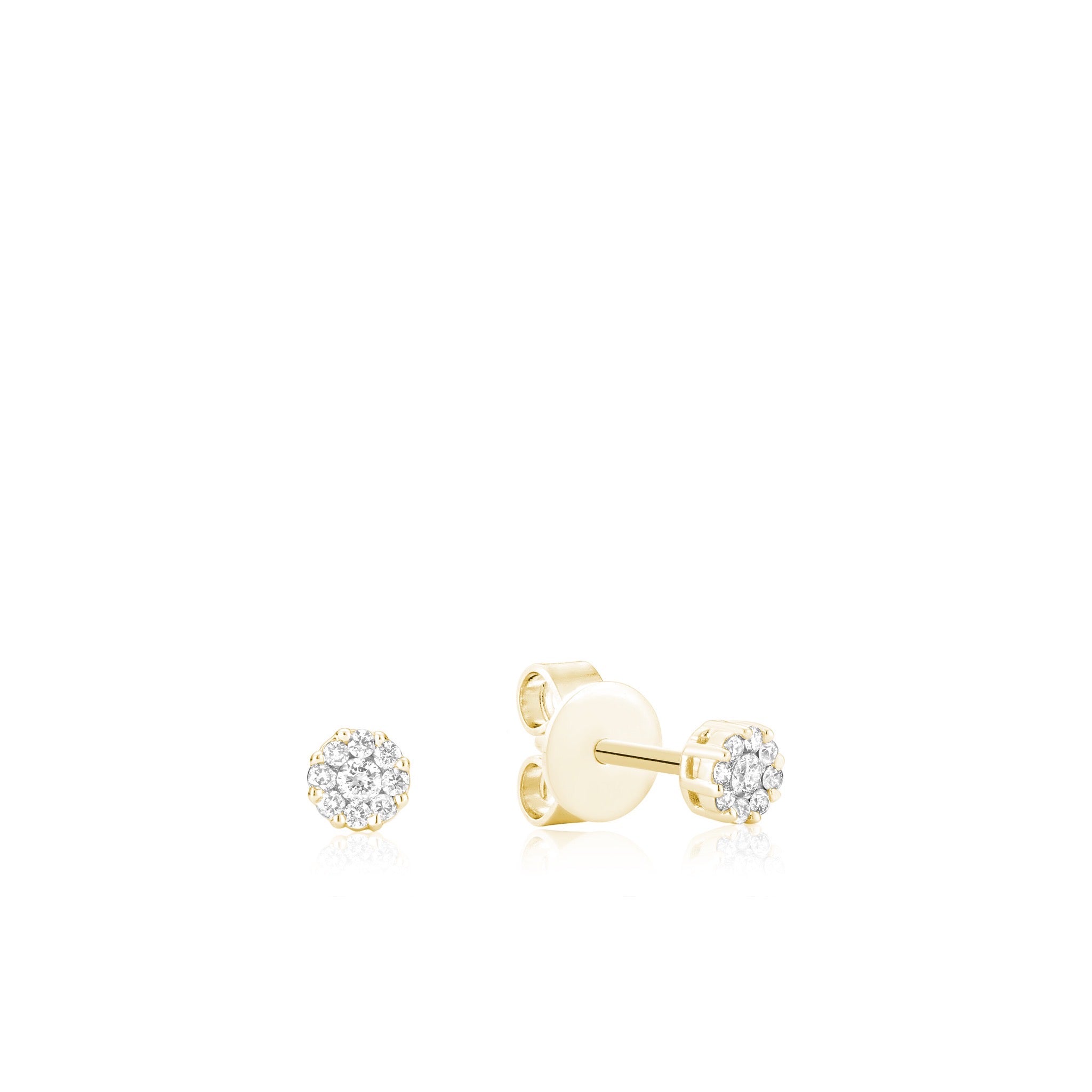 Diamond Cluster Stud Earrings
Our exquisite Diamond Cluster Stud Earrings, the epitome of elegance and sophistication. These stunning Cluster Stud Earrings are meticulously crafted to showcase a beautiful arrangement of sparkling diamonds, making them a must-have addition to your jewelry collection. With three different diamond weights (0.14cts, 0.25cts, 0.34cts) and two gold options (14kt yellow and white gold), there is a perfect pair for everyone.
Design
Our Diamond Cluster Earrings feature a unique design that sets them apart from traditional stud earrings. The captivating cluster of diamonds creates an eye-catching sparkle that radiates with every movement. Each earring is carefully crafted with precision, ensuring the highest quality of craftsmanship.
Materials
Made with exquisite 14kt gold in either yellow or white gold options, these Diamond Cluster Earrings boast a luxurious and timeless appeal. The dazzling diamonds used in these earrings are hand-selected for their exceptional clarity and color, resulting in an unmatched brilliance that will leave you breathless.
Occasions
These Cluster Stud Earrings are versatile and suitable for various occasions, making them the ideal accessory to elevate any outfit. Perfect for:
Date nights

Weddings

Anniversaries

Birthdays

Graduations

Holiday parties

Corporate events
Their timeless design ensures that they will never go out of style, making them a valuable addition to your jewelry collection.
Care Instructions
To keep your Diamond Cluster Stud Earrings looking their best, follow these simple care instructions:
Gently clean them with a soft, lint-free cloth after each wear to remove any dirt or oils.

Store them separately from other jewelry pieces to avoid scratches.

Remove them before engaging in activities such as swimming, showering, or exercising to prevent damage.

Schedule regular professional cleanings and inspections to ensure their longevity and maintain their brilliance.
Invest in a pair of our Diamond Cluster Earrings, and indulge in the luxurious sophistication they bring to your jewelry collection. With their refined craftsmanship, quality materials, and unique design, these Cluster Stud Earrings are the perfect accessory for any occasion. Experience the unmatched elegance and timeless charm of our Diamond Cluster Stud Earrings today.