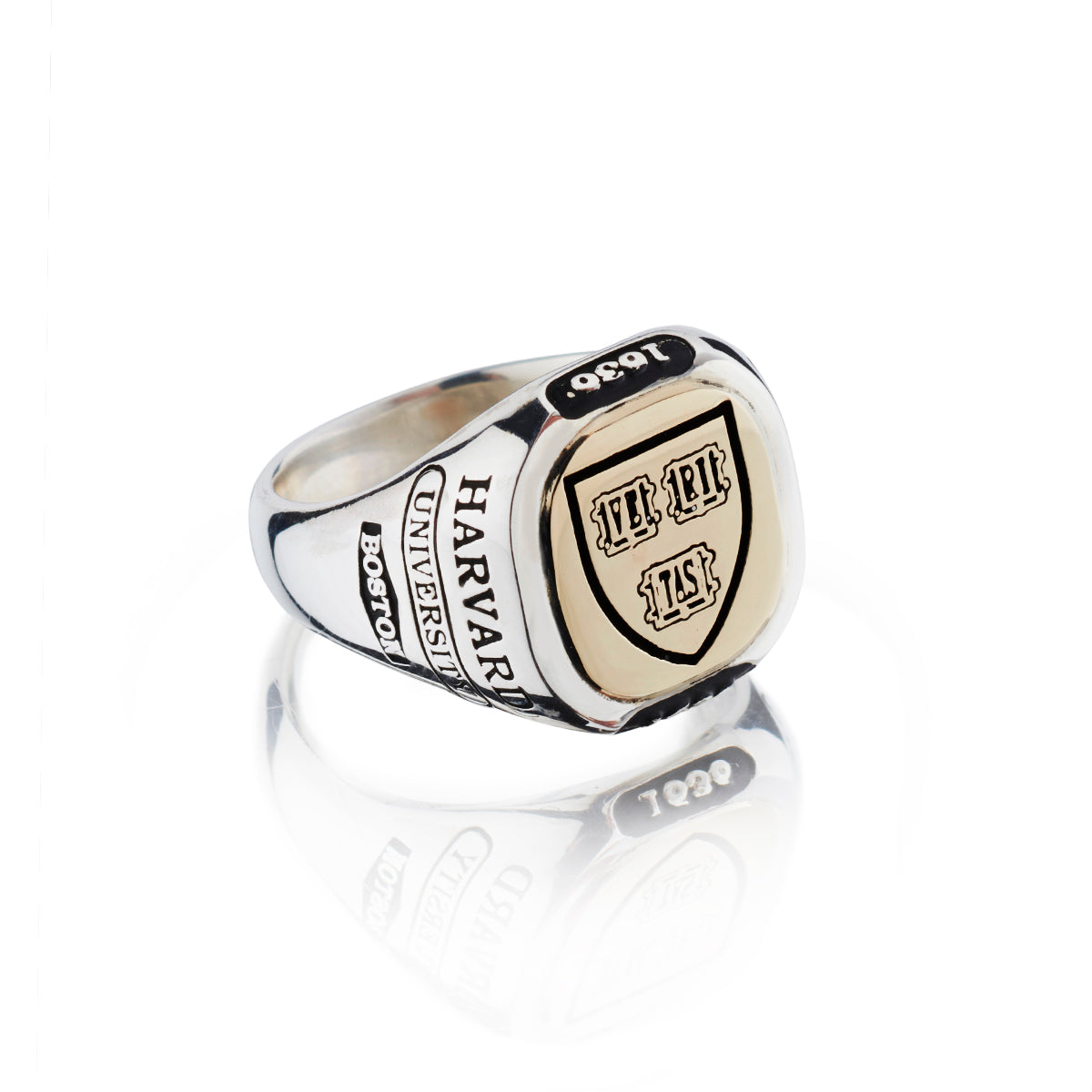 Harvard Limited Edition Honour Class Ring
Embrace the extraordinary with the Harvard Limited Edition Honour Class Ring. This remarkable piece is not just a ring—it's a powerful emblem of your unwavering dedication, relentless pursuit of knowledge, and the indomitable spirit that Harvard University instills in its students. Feel the surge of excitement as you envision yourself wearing this prestigious symbol of achievement.

Harvard Class Ring: A Glowing Testament to Your Success
Radiating brilliance and charm, the Harvard Limited Edition Honour Class Ring is crafted with sterling silver, embellished with a magnificent 14kt gold plate. Its gleaming surfaces capture the essence of your triumphant journey at Harvard—a tangible reminder of the countless hours spent in pursuit of excellence, the exhilarating victories, and the resilience that propelled you forward.

Uniting a Community, Connecting Hearts through the Harvard Class Ring
Wearing the Harvard Limited Edition Honour Class Ring is so much more than an adornment—it's an unbreakable bond. As you proudly display your class ring, you become part of an extraordinary network of brilliant minds and kindred spirits, forever linked to the esteemed Harvard community. Let your heart swell with pride, knowing that you belong to a legacy of trailblazers and visionaries.

Craftsmanship that Transcends Time

Uncompromising in quality and beauty, the Harvard Limited Edition Honour Class Ring is meticulously crafted to last for ages. Its sterling silver foundation, crowned with a resplendent 14kt gold plate, exudes an aura of timeless elegance. With every glance, you'll be reminded of your relentless pursuit of greatness and the unwavering resilience that defines your Harvard experience.

Capture Your Moment, Forever Remembered

The Harvard Limited Edition Honour Class Ring awaits, ready to be the physical embodiment of your triumphs, your dreams, and your unyielding spirit. As you slip it onto your finger, you'll feel an electric surge of pride, a surge that reaffirms your accomplishments and celebrates the remarkable journey that brought you to this defining moment. Own your story and embrace your legacy.

Unleash your passion, bask in the glory of your achievements, and let the Harvard Limited Edition Honour Class Ring serve as a radiant symbol of your remarkable journey. Don't wait another moment—immerse yourself in the timeless elegance, indomitable spirit, and everlasting pride that this extraordinary ring embodies. Order yours today and forever be connected to the greatness that is Harvard University.