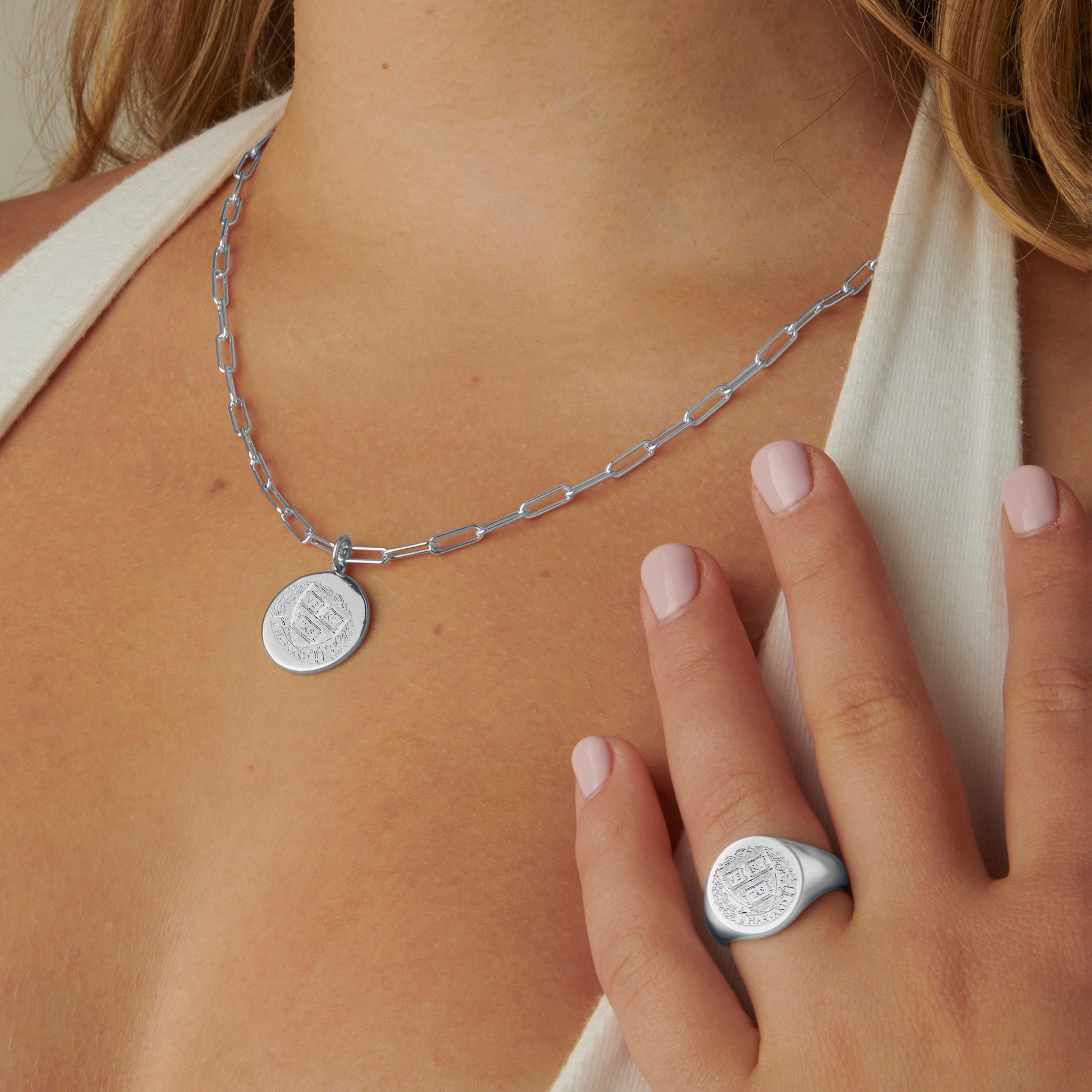 Harvard Embellished Circle Pendant
The Harvard Embellished Circle Pendant, a symbol of pride and prestige for all Harvard University enthusiasts. Crafted with meticulous attention to detail, this pendant is available in three exquisite materials: Sterling Silver, Gold Vermeil, and 14kt Yellow Gold, allowing you to choose the perfect match for your personal style and preference.
Exquisite Craftsmanship
Every Harvard Embellished Circle Pendant is expertly crafted with precision and care. The intricate design features the iconic Harvard University emblem, showcasing the university's rich heritage and academic excellence. The pendant's elegant circular shape adds a touch of sophistication, making it a timeless accessory for any occasion.
Premium Materials
Choose from three luxurious materials to suit your individual taste. The Sterling Silver option exudes a sleek and polished look, perfect for those who appreciate understated elegance. The Gold Vermeil option offers a lustrous finish, combining the warmth of gold with the durability of sterling silver. For those seeking the ultimate indulgence, the 14kt Yellow Gold pendant radiates opulence and luxury.
Versatile Chain Options
Each pendant comes with a matching curb link chain, carefully selected to complement the pendant's design. The chain can be worn in three different lengths: 16 inches, 17 inches, or 18 inches, allowing you to customize the necklace to your desired length and style. Whether you prefer a shorter, choker-style look or a longer, layered effect, this versatile chain ensures a perfect fit.
Show Your Harvard Pride
Wear the Harvard Embellished Circle Pendant as a proud testament to your connection with Harvard University. Whether you're an alumnus, a current student, or a devoted fan, this pendant serves as a meaningful reminder of your affiliation and accomplishments. Display your love for the esteemed institution with this elegant and stylish accessory.