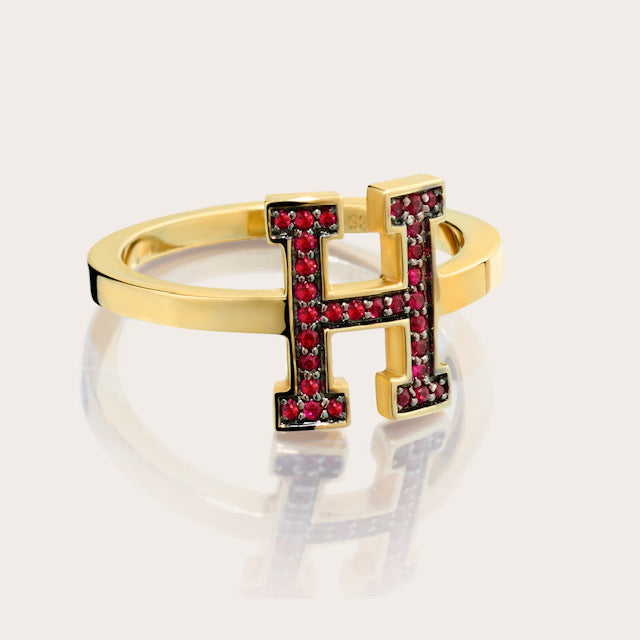 Harvard H Ruby Limited Edition Class Ring
With the exquisite Harvard H Ruby Ring Limited Edition. Crafted with meticulous attention to detail, this extraordinary class ring captures the essence of your academic achievements and the pride associated with being part of the prestigious Harvard community.
Luxurious Craftsmanship in Solid 14kt Yellow Gold
Handcrafted to perfection, this limited edition ring is made from solid 14kt yellow gold, ensuring durability and lasting beauty. The warm, radiant hue of the gold adds a touch of sophistication and timeless elegance to this remarkable piece.
The Iconic Harvard "H" Symbol and Genuine Crimson Red Rubies
At the heart of the design lies the iconic Harvard "H" symbol, representing the spirit of excellence and intellectual pursuit that defines Harvard University. Surrounding the symbol is a striking ring of genuine crimson red rubies, creating a captivating contrast against the gleaming gold backdrop.
A Timeless Keepsake for Generations to Come
The Harvard H Ruby Ring Limited Edition is more than just a piece of jewelry; it is a cherished heirloom that embodies your accomplishments, memories, and the lifelong bonds formed during your time at Harvard. Its timeless design and meticulous craftsmanship ensure that it will be cherished by you and generations to come.
Stand out with Harvard Pride
Wearing this exclusive class ring is a powerful statement of your affiliation with Harvard University. Whether you're attending official alumni events, formal occasions, or simply want to display your Crimson pride, the Harvard H Ruby Ring Limited Edition will draw admiration and spark conversations wherever you go.