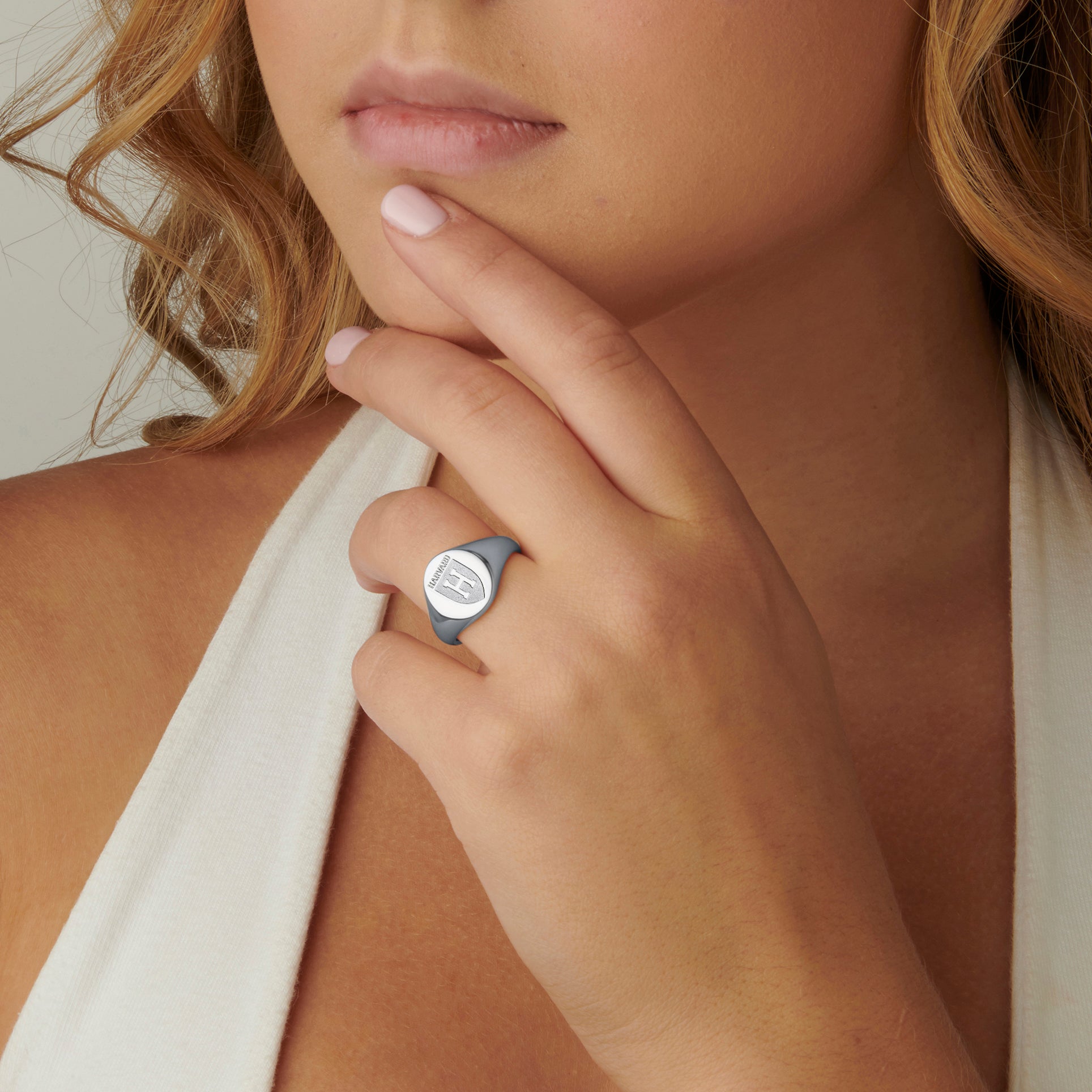 Harvard Ivy Signet Class Ring
Experience the essence of excellence and wear your achievements with pride through the Harvard Ivy Signet Class Ring. This extraordinary class ring represents not only your academic accomplishments but also your deep connection to the prestigious Harvard University. Prepare to be captivated by its exquisite craftsmanship and let it become a cherished symbol of your journey, evoking emotions that will make your heart soar.

Unleash Your Academic Spirit

The Harvard Ivy Signet Class Ring is more than just a piece of jewelry; it's an embodiment of your academic spirit and the countless hours of dedication poured into your studies. With every glance at this ring, you'll feel a surge of inspiration, reminding you of the challenges you conquered and the knowledge you acquired during your time at Harvard.

A Symbol of Pride

Adorn yourself with the officially licensed Harvard Ivy Signet Class Ring, a tangible expression of your pride in belonging to the illustrious Harvard University. It bears the seal of this venerable institution, reflecting its rich history and prestigious traditions. Allow this class ring to become an extension of yourself, radiating your deep connection and unwavering devotion to Harvard.

Timeless Elegance in Sterling Silver

Embrace the classic beauty and timeless elegance of the sterling silver Harvard Ivy Signet Ring. With its smooth, lustrous finish, it exudes a refined charm that complements any style. As you wear it, you'll feel a sense of sophistication, knowing that this piece represents not only your achievements but also your impeccable taste.

Opulent Allure of Gold Vermeil

Indulge in the opulent allure of the gold vermeil Harvard Ivy Signet Class Ring. Plated with a generous layer of 18kt gold over sterling silver, it casts a mesmerizing glow that enchants all who behold it. Let the richness of this class ring envelop you, instilling a sense of luxury and making you feel like the true embodiment of success.

Illuminate Your Accomplishments in 14kt Yellow Gold

Ignite your inner fire and illuminate your accomplishments with the 14kt yellow gold Harvard Ivy Signet Class Ring. Crafted from solid gold, it radiates an unmatched brilliance, symbolizing the heights of achievement you have reached. As you wear this class ring, you'll feel an overwhelming sense of pride, a testament to your dedication, hard work, and the remarkable journey you undertook.
Unlock the emotions tied to your Harvard experience and celebrate your accomplishments with the Harvard Ivy Signet Class Ring. Let it be a daily reminder of your journey, igniting a sense of pride, inspiration, and joy. Choose your preferred material – the classic sterling silver, the opulent gold vermeil, or the radiant 14kt yellow gold – and let this ring become a cherished part of your story.