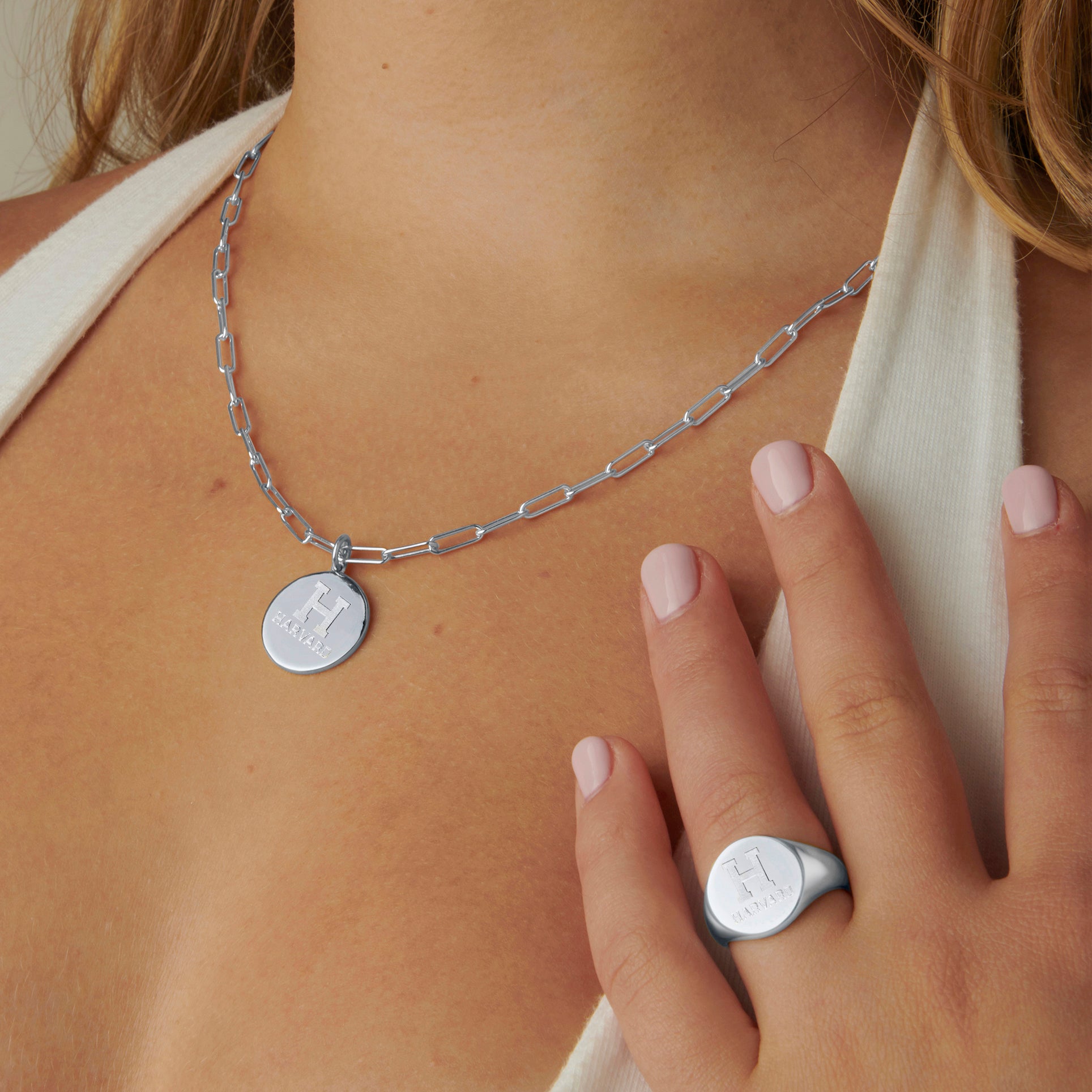 Harvard Large Circle Pendant
A Symbol of Pride and Connection
Superior Craftsmanship: Exquisite Designs in Sterling Silver, Gold Vermeil, and 14kt Yellow Gold
Sterling Silver Pendant: Timeless Elegance and Lasting Affiliation
Elevate your style and showcase your deep connection to Harvard University with our meticulously crafted sterling silver pendant. The gleaming silver surface beautifully showcases the iconic Harvard University emblem, reflecting your unwavering pride and affiliation. This timeless piece is a testament to exceptional craftsmanship and serves as a tangible reminder of your cherished memories and achievements.
Gold Vermeil Pendant: Luxurious Opulence and Captivating Allure
Indulge in a touch of luxury with our gold vermeil pendant. The thick layer of 18kt gold gracefully coats the sterling silver, creating a radiant piece that exudes opulence and sophistication. The intricate Harvard University emblem shimmers with enchanting allure, making this pendant a standout accessory that symbolizes your extraordinary journey and the transformative power of education.
14kt Yellow Gold Pendant: Prestige and Unwavering Commitment
Experience the epitome of prestige with our 14kt yellow gold pendant. Meticulously crafted in solid gold, this pendant radiates unparalleled opulence and serves as a testament to your unwavering commitment to excellence. The exquisite detailing of the Harvard University emblem is brought to life in rich, golden hues, embodying the profound connection you have with Harvard and inspiring you to reach new heights of success.
Wear Your Harvard Pride: The Essence of Harvard University in Every Pendant
Every Harvard Large Circle Pendant represents more than just a piece of jewelry—it encapsulates your cherished memories, lifelong friendships, and the transformative experiences you had at Harvard University. It's a tangible reminder of your accomplishments and the values instilled within you during your time at one of the world's most prestigious institutions.
Choose more than just a pendant; choose an emotion-driven treasure that symbolizes your journey, your achievements, and your unwavering connection to Harvard University. Embrace the beauty, elegance, and profound meaning of our Harvard Large Circle Pendant, and let it become a cherished heirloom that carries the spirit of Harvard with you wherever you go.