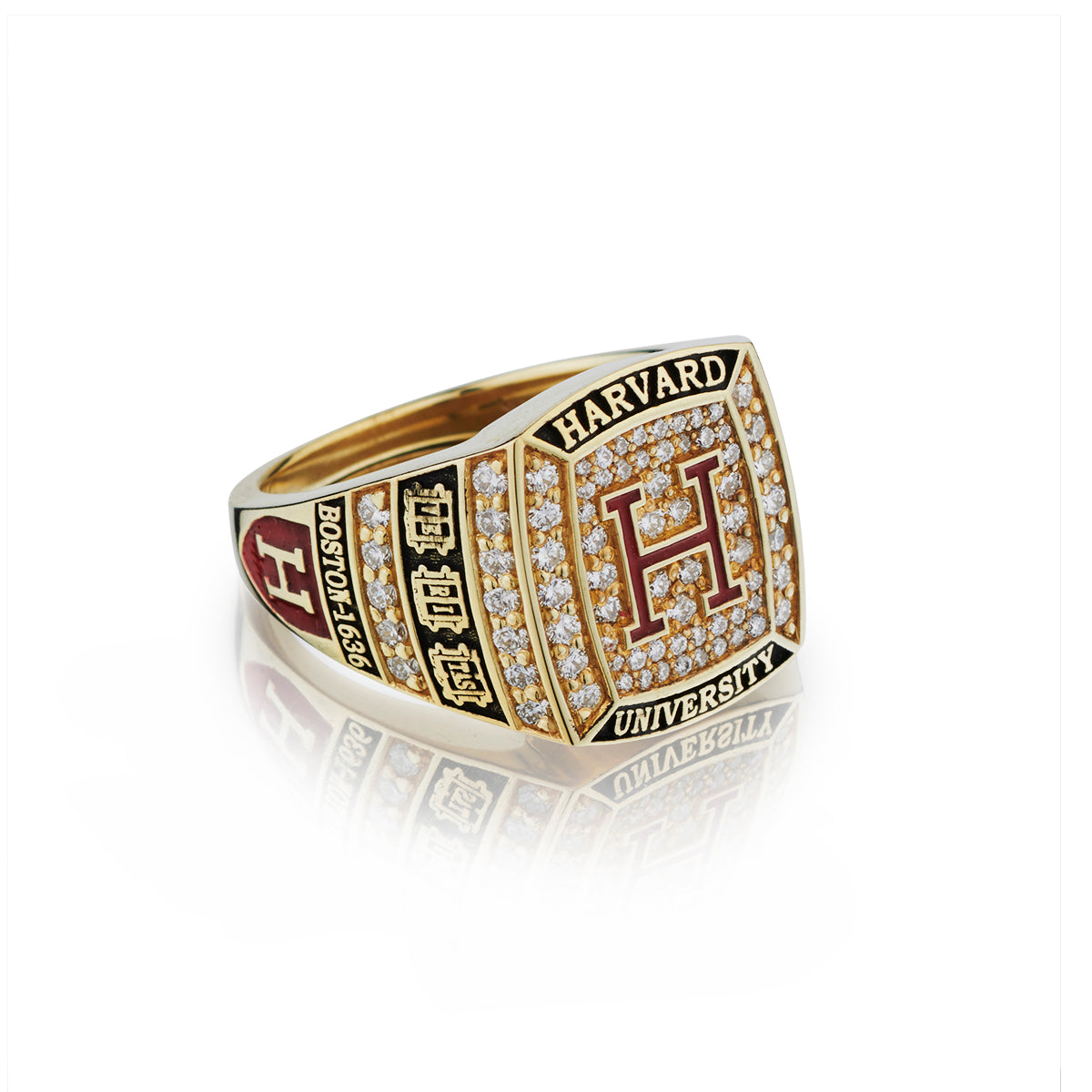 Harvard Limited Edition Veritas Class Ring
Embrace the legacy of your academic journey at Harvard University with the Harvard Limited Edition Veritas Class Ring. This remarkable class ring is more than just a piece of jewelry; it encapsulates the profound emotions, cherished memories, and outstanding accomplishments that define your time at Harvard. Handcrafted with meticulous attention to detail, this class ring exudes elegance, beauty, and the spirit of academic excellence that Harvard represents.
Unparalleled Craftsmanship and Exquisite Design
Meticulously Handcrafted
Every aspect of the Harvard Limited Edition Veritas Class Ring is carefully handcrafted to ensure the highest level of quality and craftsmanship. From the selection of the finest 18kt yellow gold to the precise setting of approximately 2.10 carats of brilliant diamonds, every detail is meticulously executed. The result is a class ring that radiates timeless beauty and reflects the exceptional artistry of its creation.
Symbolic Harvard "H" in Crimson Red
At the heart of this extraordinary class ring lies the iconic Harvard "H" emblem, meticulously enamelled in bold Crimson red. This powerful symbol represents the rich heritage, academic excellence, and unyielding spirit of Harvard University. It serves as a vivid reminder of your educational journey, the countless hours spent in pursuit of knowledge, and the lifelong connections forged within the Harvard community.
Limited Edition Rarity
With only 6 pieces available, the Harvard Limited Edition Veritas Class Ring is a truly exclusive collector's item. This rarity adds to its allure, making it a highly sought-after treasure for Harvard alumni and supporters. By owning this limited edition class ring, you become part of an elite group, united by your shared experiences and deep-rooted connection to Harvard University.
A Profound Symbol of Affiliation
Capturing Emotions and Memories
Wearing the Harvard Limited Edition Veritas Class Ring is like carrying a piece of your Harvard experience with you wherever you go. It captures the emotions, memories, and personal growth that define your time at Harvard. Each glance at this exquisite class ring will serve as a reminder of your academic achievements, the friendships forged, and the invaluable lessons learned during your journey.
A Testament to Academic Excellence
As you proudly display your Harvard class ring, you showcase your unwavering commitment to academic excellence. It becomes a symbol that speaks volumes about your dedication, perseverance, and the rigorous standards you upheld throughout your Harvard education. It is a testament to your intellectual pursuits and a source of inspiration for future generations of Harvard students.