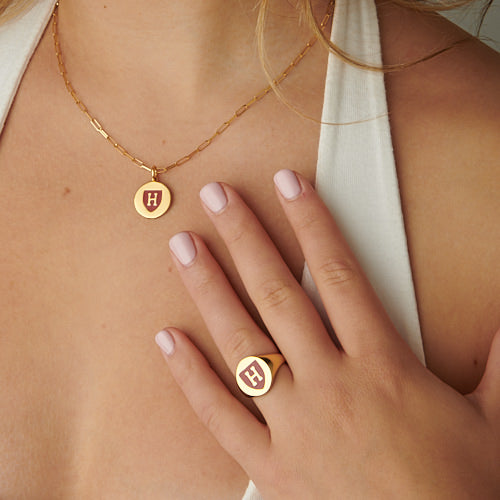 Harvard Red Enamel Class Ring
The Harvard Red Enamel Class Ring is a symbol of your prestigious journey at Harvard University. This exquisite ring is meticulously crafted with rich 18kt gold vermeil, exuding elegance and sophistication.
Custom Design Celebrating Harvard University
The Harvard Red Enamel Class Ring showcases a custom design that captures the essence of your academic achievement. The iconic Harvard University crest takes center stage, meticulously etched with intricate detail. The deep red enamel background accentuates the emblem's vibrant colors, adding a touch of regality to this timeless piece.
Personalization and Meaningful Inscriptions
Designed to be cherished for a lifetime, the Harvard Class Ring represents the bonds forged during your time at Harvard. The carefully crafted band features an engraved scroll pattern, symbolizing the knowledge and wisdom gained throughout your educational journey. The back of the ring can be personalized with your name, graduation year, or any other meaningful inscription, making it truly unique to you.
Craftsmanship and Durability
Crafted with utmost attention to detail, the Harvard Class Ring combines tradition and contemporary design seamlessly. Its superior craftsmanship ensures durability and longevity, allowing you to proudly display your Harvard affiliation for years to come.
Embrace the Legacy of Excellence
Whether you're a current student, a proud alumnus, or a dedicated Harvard supporter, this class ring serves as a tangible reminder of your connection to one of the world's most prestigious institutions. It also makes for a cherished gift for someone dear to you, celebrating their academic accomplishments and aspirations.
Order Your Harvard Class Ring Today
Don't miss the opportunity to own a piece of Harvard's rich history. Order your Harvard Class Ring today and carry the legacy of excellence with you wherever you go.