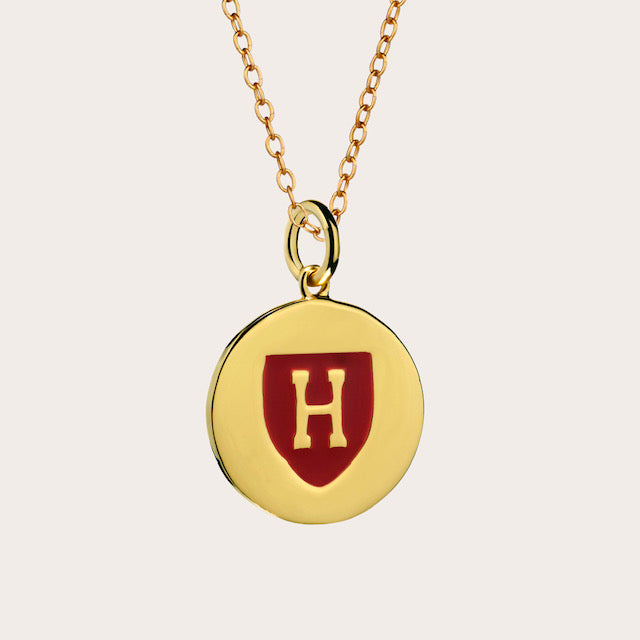 Harvard Red Enamel Pendant
Experience the Timeless Elegance of the Harvard Red Enamel Pendant
Crafted with Premium 18kt Gold Vermeil for Unmatched Quality and Durability
The Harvard Red Enamel Pendant is made from high-quality 18kt gold vermeil, ensuring a long-lasting and beautiful piece of jewelry that can be cherished for years to come. The vibrant red enamel adds an eye-catching touch, making this pendant a true work of art.
Exquisite Harvard Athletics Logo Design for a Proud Display of Affiliation
Featuring the iconic Harvard Athletics logo, this pendant is the perfect way to showcase your pride and connection to the esteemed university. Whether you're a current student, alumni, or simply a fan of the institution, wearing this pendant will make a statement about your passion for academic excellence and athletic prowess.
A Stunning Accessory for Any Occasion or Outfit
The Harvard Red Enamel Pendant is versatile enough to complement any outfit, whether you're dressing up for a formal event or adding a touch of sophistication to your everyday attire. Its elegance and style make it a must-have accessory for anyone who appreciates fine jewelry.
The Rich History Behind the Iconic Harvard Athletics Logo
Harvard's Athletics logo has a storied history dating back to the late 19th century. The distinctive "H" symbolizes not only the university's commitment to academic excellence but also its storied athletic tradition. By incorporating this emblem into the pendant's design, the wearer can feel a sense of pride and connection to this prestigious institution and its rich heritage.
A Symbol of Achievement and Connection to the Prestigious Institution
The Harvard Red Enamel Pendant is more than just a beautiful piece of jewelry; it's a symbol of accomplishment, dedication, and belonging. Wearing this pendant serves as a reminder of your connection to one of the world's most renowned institutions, and it's a testament to your hard work, determination, and commitment to excellence.