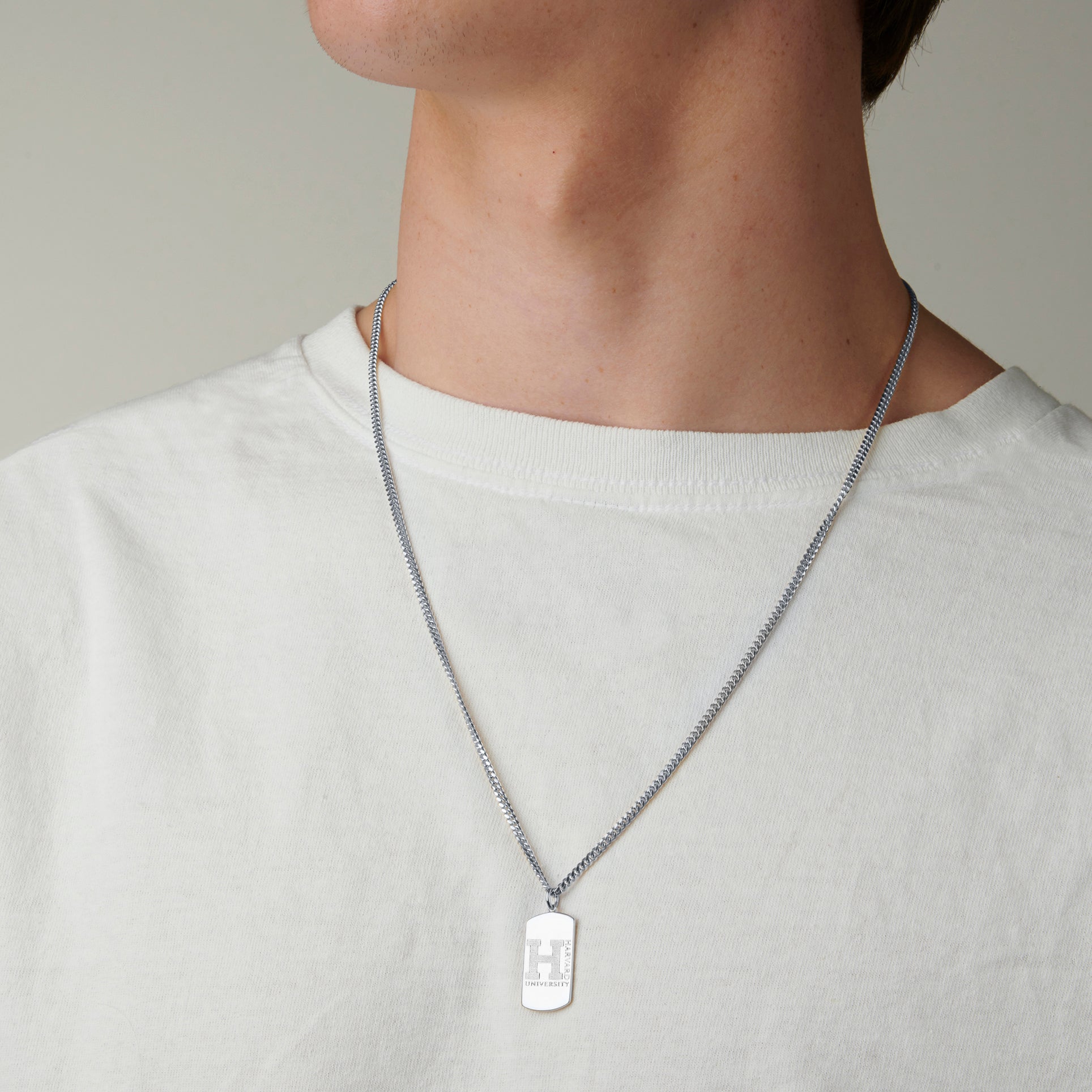 Harvard Squadra Pendant Too
The Harvard Squadra Pendant is a stunning piece of jewelry that pays homage to the prestigious Harvard University. Crafted with meticulous attention to detail, this pendant is available in three exquisite finishes: sterling silver, gold vermeil, and 14kt yellow gold.
Capturing Harvard's Rich History and Iconic Crest
The Harvard Squadra Pendant beautifully showcases the university's iconic crest, featuring a prominent letter "H" logo at the center, with the word "Harvard" elegantly placed at the side and "University" at the bottom. This intricate design captures the essence of Harvard's rich history and academic tradition, representing the prestigious legacy of the institution.
Options for Every Style and Occasion
Whether you're a proud Harvard alumnus, a student, a faculty member, or simply an admirer of the university, this pendant is a timeless piece that allows you to display your connection and reverence for Harvard University with elegance and style.
Sterling Silver: Classic and Versatile
The sterling silver option offers a classic and versatile look, perfect for everyday wear. Its timeless elegance makes it suitable for any occasion.
Gold Vermeil: A Touch of Luxury and Warmth
The gold vermeil option adds a touch of luxury and warmth to your style. With its layer of 18kt gold over sterling silver, it exudes opulence and sophistication.
14kt Yellow Gold: Radiating Prestige and Sophistication
For those seeking the ultimate symbol of opulence, the 14kt yellow gold version of the Harvard Squadra Pendant radiates prestige and sophistication. It is a statement piece that captures attention wherever you go.
Superior Quality and Durability
The Harvard Squadra Pendant is meticulously crafted to ensure superior quality and durability. It comes with a sturdy chain, allowing you to wear it comfortably at various lengths. The pendant's size and weight make it a noticeable yet understated accessory that can be worn on any occasion, from formal gatherings to casual outings.
A Testament to Excellence, Knowledge, and Lifelong Learning
By owning the Harvard Squadra Pendant, you not only exhibit your admiration for Harvard University but also demonstrate your commitment to excellence, knowledge, and lifelong learning.
Don't Miss Out on the Harvard Squadra Pendant
Don't miss the opportunity to own this exquisite piece of jewelry. Whether as a personal keepsake or a thoughtful gift, the Harvard Squadra Pendant is an exquisite accessory that combines elegance, history, and the proud legacy of Harvard University.