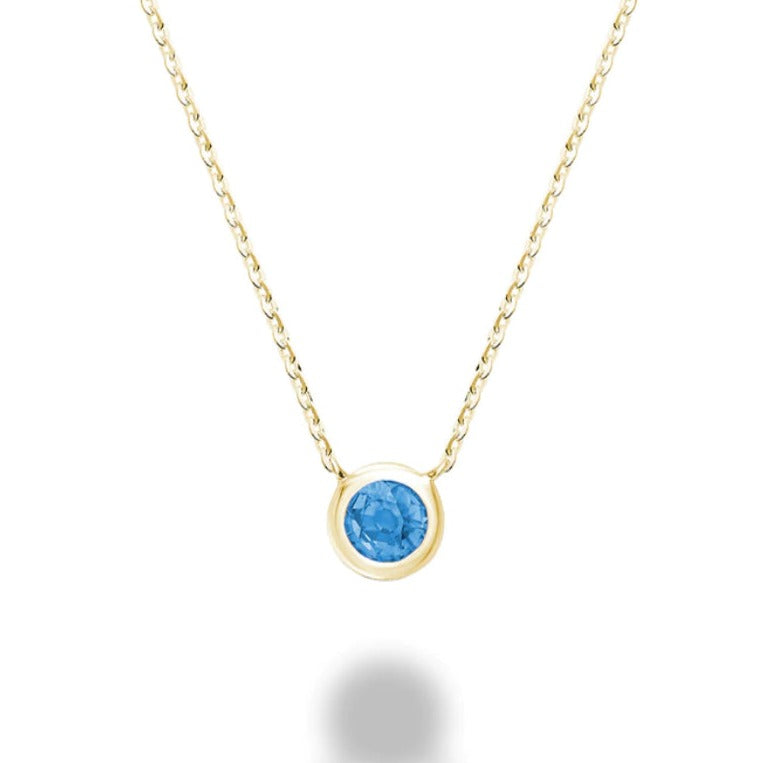 Blue Topaz Necklace - Bezel Set
Majestic and inspiring, our Blue Topaz Necklace - Bezel Set exudes elegance and style. This beautiful piece is available in 10kt yellow or white gold, making it both versatile and attractive. The necklace is adorned by a stunning blue topaz gemstone in the bezel setting, evoking a sense of calm, balance, and spiritual healing as well as the perfect touch of sparkle to enhance your look. This is the perfect piece for you if you're looking to add a special touch to your style or to find the ideal gift for somebody special.

Blue Topaz is said to connect to the spiritual realm and help the wearer find their truth and purpose. It will also bring peace and understanding of the inner self. Those who are naturally drawn to the birthstone of November will be enamored with our stunning Bezel Necklace—both for its metaphysical benefits and its elegant design.

This beautiful necklace will add a touch of refinement and luxury to your look for an evening out or special occasion. It also makes an ideal gift for birthdays, anniversaries, and milestones. When you purchase the Blue Topaz Necklace - Bezel Set, you'll experience the joy of owning an heirloom-quality piece that shows your commitment and dedication to an elegant and luxurious lifestyle.